Baker Creek Heirloom Seeds Wholesale Program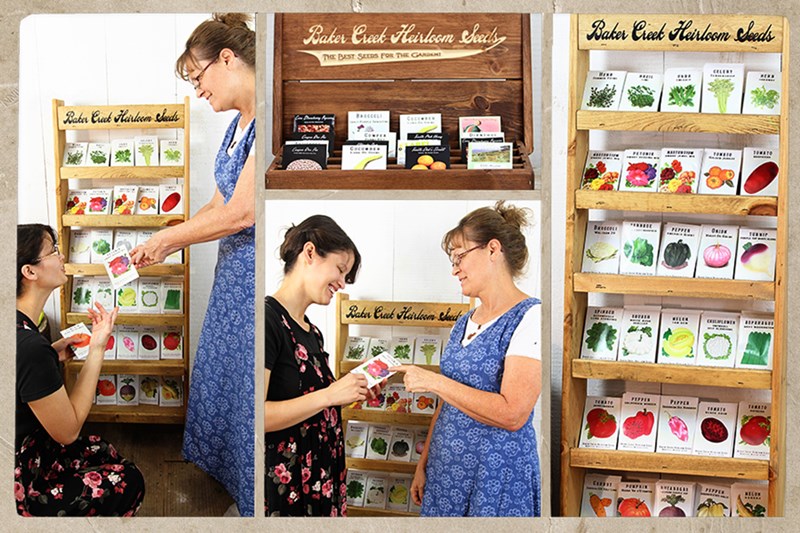 2021 Wholesale Program
for Retail Businesses
We apologize, but we are not accepting any new wholesale accounts at this time. We are hoping it is temporary and that we can restart the program as quickly as possible. Existing wholesale customers may still order.

We are offering all seed varieties for wholesale! No Seed rack order required. Sell our seeds in your existing racks! Only regular sized seed packets will be offered at 50% off. The following items are not eligible for discounts; bulk packets, books, live plants, bulbs, merchandise, and seed racks.
This program is only available for the United States of America and we offer no other wholesale programs.
To Get Started
Click here to upgrade your account to a wholesaler. This account type will reduce the price of all small seed packets. All other retail goods such as bulk packets, books, live plants, bulbs, merchandise and seed racks will not be eligible for a discount and must be ordered separately.
We require all wholesale orders to be placed online:
Seed Racks Available
Floor Rack $125.00

An attractive, Ozark Traditional hand-crafted, vintage-style wooden floor rack, about 5 feet tall. Stands perfectly against a wall, counter or post. This rack will hold 28 unique varieties (not included). Packets are black if we have an actual photo, and contain heirloom vegetables, flowers, and herbs. Occasionally, if the warehouse runs out of packets, they may pack seed in a generic packet, but we try to keep that to a minimum.

Overall approximate dimensions

(Since they are hand made size may vary +/- half an inch)

Height: 57"

Width: 21"

Depth: 6"
About our seeds
We sell only pure, non-hybrid, non-GMO, non-treated and non-patented seeds. We do not buy seed from Monsanto-owned Seminis. We boycott all gene-altering companies. We are not members of the pro-GMO American Seed Trade Organization! We work with a network of about 100 small farmers, gardeners, and seed growers to bring you the best selection of seeds available!
We offer over 1,800 fine varieties!
Our Seed Site: Rareseeds.com
Unique seeds from 70 countries!
Call for more information
We apologize, but until further notice, the Village, Seed store, Restaurants and phones will be closed. We will still be shipping orders as quickly as we can. Please contact us by email at seeds@rareseeds.com with any questions.
Phone: (417) 924-8917 x 7026
Contact Person: Leah
email: seeds@rareseeds.com


Phone Hours:
8:00 AM to 4:00 PM CST Monday through Friday
Closed Saturdays and major holidays