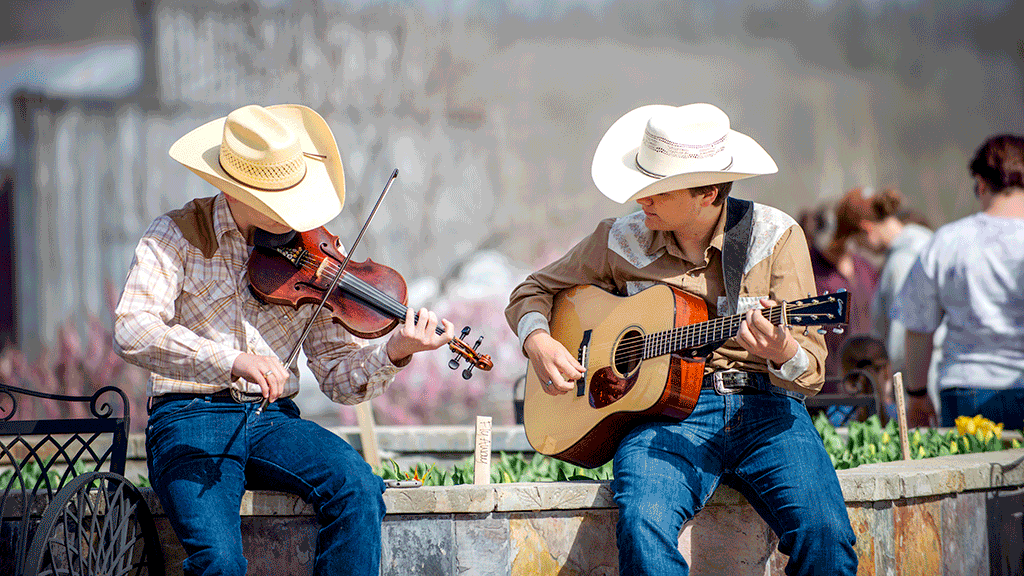 ---
Enjoy expert speakers, local food, unique vendors, greenhouse and garden tours, and old-fashioned entertainment at Baker Creek's Mansfield, Missouri, farm! Join thousands of gardeners, farmers, and craftspeople to celebrate heirloom gardening at our Missouri homeplace. Become a vendor or exhibitor, or join us as a guest!
Musicians are wanted for the old-time music contest!
$15 per vehicle. Admission is free, but limited parking requires purchasing a ticket before the festival. Hours are 10 a.m. to 6 p.m.
---
---
RACHAEL WEST
"From Forest to Table: Wild Foods Cuisine"
Rachael West is the owner, founder, and lead instructor of Eating the Ozarks. An expert forager, wild foods chef, and certified herbalist, Rachael is also the author of Wild Foraged, an educational culinary cookbook. She has taught about wild foods in the Ozarks for the past decade. She appears biweekly on Springfield TV station KOLR-10 and has worked with many groups and organizations. Learn more about her work at eatingtheozarks.com.
12:35 p.m. Monday, May 15
---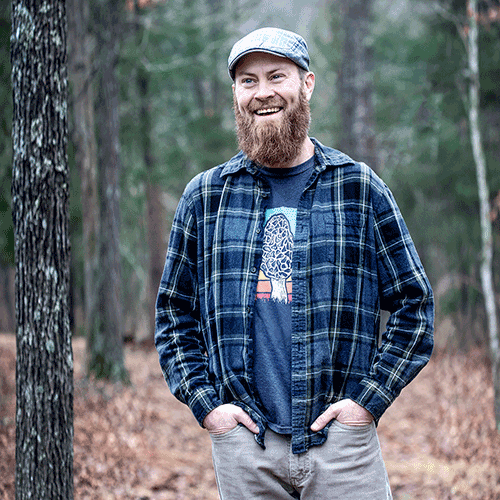 ---
MIKE SNYDER
"How to Grow Mushrooms at Home"
Mike Snyder is a mushroom educator from the Ozarks and has been busy doing talks, walks, and workshops about mushrooms in the region for the past few years. He has been foraging and studying fungi for 13 years and has been cultivating mushrooms for about 3 years, focusing on outdoor growing methods. He serves on the Board of Directors of the Missouri Mycological Society and is one of their official mushroom identification experts, having earned the Harry Thiers Certificate of Mushroom Proficiency. He is a proud member of the North American Mycological Association Cultivation Committee as well. He and his wife, Cara, run WildWise Botanicals, a company that offers products handcrafted from wild-foraged plants and fungi.
11:20 a.m., Monday, May 15
---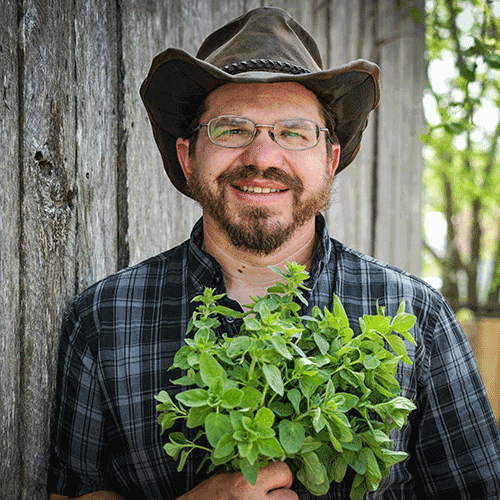 ---
RAY TYLER
"How to Grow Year-Round for Your Family"
Ray Tyler of Rose Creek Farms is an author and Master Market Gardener. Ray is known for his innovative systems for growing intensively on small-scale farms in hot, humid climates. His family's farm grosses $600,000 annually from just one acre. Ray will teach you the steps to feed your family year-round from just 1,800 square feet of covered space. He will cover topics including:
The best planting plan for success
The best crop varieties that tolerate extreme heat and extreme cold
The best organic fertilizers for gardeners
How to set up a simple, low-cost automatic irrigation system
How to crop steer for winter growing
12:35 p.m., Sunday, May 14; 4:55 p.m. Monday, May 15 (with Jon Jackson) He will also be available for one-on-one consultations both days of the festival.
---
---
---
GIBRON JONES
"The Power of Partnership: Farmers and Food Hubs Combating Diet-Related Illnesses"
Gibron Jones is the founder of HOSCO SHIFT and the North Sarah Food Hub (NSFH) in his home city of St. Louis. The nonprofit organization is focused on increasing access to healthy, local food and creating jobs and economic development in neighborhoods and communities that need it most. Since its launch two years ago, the NSFH has produced millions of meals and produce boxes. The organization has also partnered with BJC Christian North East Hospital and other agencies to help diabetes patients lower their A1c blood sugar levels through healthier eating.
11:20 a.m., Sunday, May 14
---
---
SARA PATTERSON
"Beyond the Home Garden"
Sara Patterson is a farmer, activist, and entrepreneur who started her farm at 14 in rural Utah. At age 28, despite many challenges, Red Acre, a biodynamic farm, is thriving. The two-acre farm is the sole source of income for her mother and her. Sara will share why she stuck with farming and why it's more important than ever. She advocates for backyard gardeners and homesteaders to grow more like market farmers, producing enough to share through selling and building community. Integrative farming is also very important to her.
In her talk, Sara will cover tools and supplies not available when she started 14 years ago and share how much easier it is to start a small farm now — complete with sources, how-tos, lessons learned and mistakes made.
1:40 p.m. Monday, May 15; 4:55 p.m. Monday, May 15 (Market Farming Q&A)
---
---
JON JACKSON
"Seeds Tell the Story: Heirlooms of the African Diaspora"
Jon Jackson is a retired Army Ranger, director of the nonprofit STAG (Strength To Achieve Greatness) and founder of Comfort Farms, near Milledgeville, Georgia. Since 2016, the farm has become a haven for veterans struggling to find their place, and their peace, back home.
Jon is also on a quest to understand the contributions that enslaved Africans made to their communities through food. His extensive research has included travels in Africa and the Amazon. He has encountered people growing and stewarding cowpea varieties, watermelon, and other historically significant African crops in the rainforests of South America. Join him for a deep dive into why preserving and stewarding heirlooms is essential not just for the sake of history -- but also for the future of humanity in an era of climate change.
1:40 p.m., Sunday, May 14; 4:55 p.m. Monday, May 15 ( Market Farming Q&A with Ray Tyler)
---
---
ANNA MARIA DESIPRIS
Anna Maria Desipris will be presenting "Designing Your Garden for Pollinators," a presentation to help you jumpstart your pollinator gardens! We'll cover soil preparation, plant selection and planting methods, maintenance, and design considerations. The beauty of pollinator gardens is that they not only support these critical organisms but also provide food and medicine, and as well as nourishing the land.
Anna Maria is co-founder of Sun and Bloom Farms, a regenerative organic farm and permaculture facility near Lebanon, MO. There they grow nutrient-dense fruit, vegetables, medicinal herbs, cut flowers, seedlings, and more. Visit their website to learn more about workshops, tours, and apprenticeships.
2:45 p.m. Monday, May 15
---
---
CRYSTAL STEVENS
Crystal Stevens will be presenting "Designing an Edible Yard." She co-owns Flourish Farmstead and runs Flourish Folk School / Flourish School of Botanicals with her husband, Eric Stevens. She teaches classes and programs on herbalism, foraging, gardening, and cooking, and is a regular presenter at conferences and fairs. Crystal will discuss a myriad of fruits, vegetables, flowers, and herbs to transform your yard into an edible oasis, increase biodiversity, attract pollinators, and offer a continuous harvest through planting fruit and nut trees, perennial natives, heirlooms, and medicinal herbs. She is the author of three books, including Your Edible Yard. She and her family live along the bluffs of the Mississippi River in Godfrey, Illinois.
3:50 p.m., Sunday, May 14
---
---
SHANNIE KHAMARE & YUVRAJ (UV) SINGH KHAMARE
"How to Grow Your Most Heat-Tolerant Garden"
Shannie is well known in the Baker Creek community for her work as a writer and garden educator through the company's videos, blogs, social media, and catalogs. Shannie and her husband, Uv, operate Plantsages, a small horticulture business and Instagram account with nearly 100,000 followers. Uv earned a Ph.D. in Environmental Horticulture from the University of Florida, with a focus on chemical-free weed management strategies for the nursery industry. He is passionate about collecting rare seeds and plants. Their daughter, Garvi, also loves the garden.
2:45 p.m. Sunday, May 14
---
---
RYAN SCHUMACHER
"The Essence of Seeds: Falling in Love with Herbs"
Ryan is a farmer and founder of Essence of the Earth, an essential oils company based in Cornville, Arizona. Ryan and his family grow and collect wild herbs and distill them into high-quality products. Ryan also works with farmers globally to implement organic practices.
10:15 a.m. Monday, May 15
---
---
RICHARD HERMAN
"Permaculture Design for Sustainable Living"
Using permaculture design on his land in the Missouri Ozarks, Richard Herman has developed a forest garden, intensive grazing systems, and a sustainably harvested forest.
3:50 p.m. Monday, May 15
---
---
RANJANA & CHETAN HANS
"Eating Ayurvedic Herbs for Good Health"
Through their Columbia, Missouri-based business, Raw Roots Turmeric, Ranjana and Chetan Hans are cultivating an appreciation for Ayurvedic herbs such as turmeric, moringa, and ashwagandha. They also make fresh turmeric-based products from these medicinal herbs. Ranjana first learned about Ayurveda from her parents; Chetan is a cardiovascular health researcher at the University of Missouri School of Medicine, with expertise in inflammation. He also has the passion to examine the health properties of Ayurvedic herbs.
4:55 p.m. Sunday, May 14
---
---
MISSOURI OZARKS STORYTELLER DR. ERIC "RICK" MANSFIELD
Rick and his wife, Judy, live on a small organic farm in Reynolds County, Missouri. He also writes a weekly column, Reflections from the Road, which appears in about 20 newspapers. His books include the children's picture books The Pastel Pets of Ms. Patty Pummill and The Last Ozark Elk, collections of historically based anecdotes in A Riverman's Legacy and Other Ozark Tales, and the Rachel Hunt murder-mystery series.
---